Honorary Consul for the Republic of South Africa in Albania
2016
Mr. Zenel Hoxha, yet again in line with his international vision to bringing together nations and communities, "because there is more uniting us than divides us", he has been appointed as the Honorary Consul for the Republic of South Africa in Albania.

Both countries have rich natural resources and their people are outspoken and hardworking with great hospitality.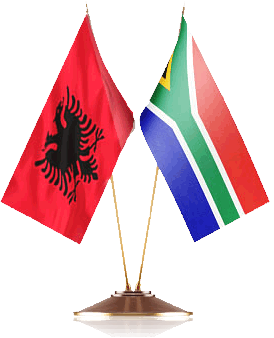 WHY INVEST IN SOUTH AFRICA
ECONOMY
The free market reforms have opened the country to foreign investments, especially in the field of power, transport, infrastructure and tourism development. Albania is a member of the UNO, NATO, the Organization for Security and Cooperation in Europe, the Council of Europe, the World Trade Organization, and it is one of the founding members of the Union for the Mediterranean. In 2014, Albania received the candidate status for membership in the European Union.
TOURISM
Albania is considered a country of significant touristic potentials: spectacular mountains, man forests, rivers, as well as sandy and rocky beaches. The coastline is 470 km long and it runs along the Adriatic Sea in north and Ionian Sea in south of the country. The high touristic potentials of Albania are not related only to the nature attractions, but also to the cultural and archaeological heritage.
FACILITIES FOR FOREIGN INVESTORS
Foreign Investments in Albania. Regarding the foreign investments and acquisitions up to € 10,000,000 in Albania:
The foreign investments in the Republic of Albania are not subject to prior authorization. They are allowed and treated based on terms not less favourable than those recognized to domestic investments in similar conditions, with the exception of land ownership, which is regulated by a special law.
In any case and at any time, investments have equal and unbiased treatment; they enjoy full protection and security.
In any case, foreign investments have a treatment not less favourable than the one provided by the universally accepted norms of the international law.
The Law on Strategic Investments
The Tourism Sector, which is one of the 5 strategic investment sectors, divides the strategic investments into two categories:
Equal or more than € 5.000.000 and at the same time, it generates at least 80 new jobs, in order to obtain the "Strategic investment / investor, assisted procedure" Status.
Equal or more than €50.000.000, in order to obtain "Strategic investments / investor, special procedure" Status.
Today's South Africa is one of the most sophisticated, diverse and promising emerging markets globally. Strategically located at the tip of the African continent, South Africa is a key investment location, both for the market opportunities that lie within its borders and as a gateway to the rest of the continent, a market of about 1- billion people.
South Africa is the economic powerhouse of Africa and forms part of the BRICS group of countries with Brazil, Russia, India and China. It has a favourable demographic profile and its rapidly expanding middle class has growing spending power.
South Africa has a wealth of natural resources (including coal, platinum, coal, gold, iron ore, manganese nickel, uranium and chromium) and it enjoys increased attention from international exploration companies, particularly in the oil and gas sector.
It has world-class infrastructure, exciting innovation, research and development capabilities and an established manufacturing base. It is at the forefront of the development and rollout of new green technologies and industries, creating new and sustainable jobs in the process and reducing environmental impact.
South Africa has sophisticated financial, legal and telecommunications sectors, and a number of global business process outsourcing (BPO) operations are located in the country.
It has political and macro-economic stability, an abundant supply of semiskilled and unskilled labour, and it compares favourably to other emerging markets in terms of the overall cost of doing business. For professional jobs, labour costs are less than half of the cost of European countries. For manufacturing jobs, labour costs are around one-third cost of Europe.
The South African Government has introduced wide-ranging legislation to promote training and skills development and fast-track the building of world-class skills and competences.
One of the main reasons for South Africa becoming one of the most popular trade and investment destinations in the world is due to the country ensuring that it can meet specific trade and investment requirements of prospective investors.
South Africa has a host of investment incentives and industrial financing interventions that are aimed at encouraging commercial activity and its trade rules favour a further expansion in South Africa's burgeoning levels of international trade.
South Africa's unrivalled scenic beauty and reputation for delivering value-for money make it an attractive leisure and business travel destination. Courtesy of DTI of SA https://www.thedti.gov.za/trade_investment/why_invest_insa.jsp